DRESS: Cameron by Rosa Clara
WEDDING DATE: 19th September 2020
VENUE: Castiglione Ugolino, Umbria
PHOTOGRAPHER: Naomi Kenton Photography
The Marrime Experience…
Why did you choose to visit Marrime?
I work in the wedding industry myself (I own The Designer Cake Company) so I knew about Marrime and the designers that they carry in the boutique. Having seen a lot of wedding dresses through my work, I had quite a strong idea of what I wanted and Marrime seemed like the best fit for the relaxed boho style I was after.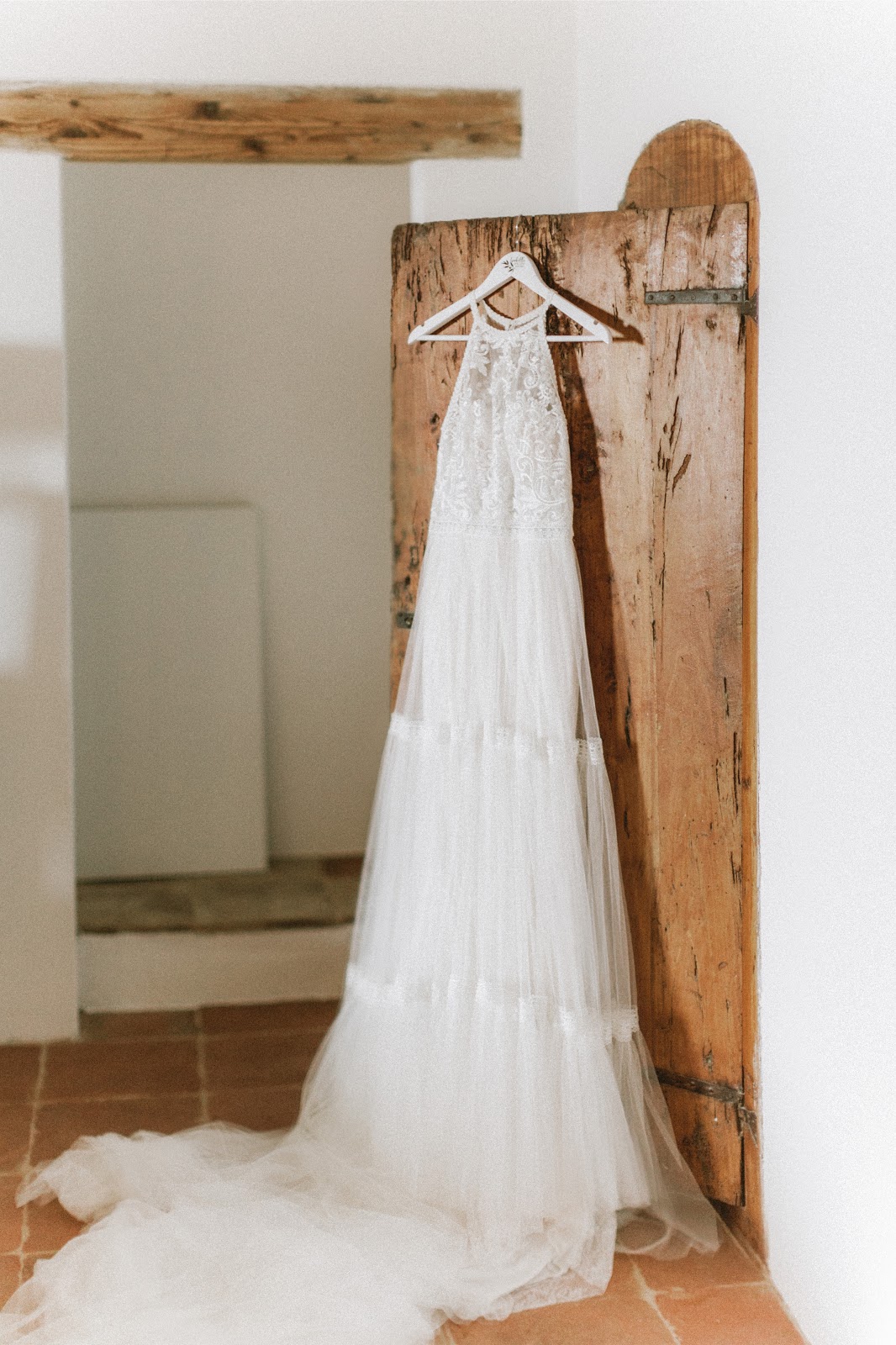 Who did you bring with you to your appointments?
My mum came to my first appointment but she lives in France so wasn't able to attend the subsequent appointments and then Covid hit so I had to go alone anyway!
How did you find your experience at Marrime?
The girls at Marrime were brilliant, in particular Holly. The dress that I went with was called Cameron by Rosa Clara and it wasn't one that Marrime originally stocked but I had seen it online so Holly pulled some strings and managed to borrow a sample from the designer for me to try. It was a brand new design at the time and was still being shown at the wedding shows but Holly called it in for me hot off the catwalk! Never at any point did I feel like I was being sold to or forced into dresses I didn't like, Holly listened to what I wanted (I was pretty specific!) and put forward options and ideas.
The boutique itself is a beautiful space in which to try on dresses, you have the whole place to yourself for appointments which makes the experience feel even more special and personal and despite being quite a small shop, they have a fabulous range of designs to choose from.
What was your bridal style?
I would say boho chic… we got married in the middle of the beautiful Umbrian countryside in Italy so I went with a relaxed style which I felt suited the surroundings. It wasn't entirely practical because we got married outside so I spent a good bit of the day picking bits of foliage out of my train but it didn't matter, you only get married once so who cares about practicality!
How did you know your dress was THE ONE?
I didn't initially! Unlike a lot of other brides, I didn't have that bridal moment. I think because I'm surrounded by weddings for my job, I've unfortunately become a little blazé about it all so I didn't have that 'it's the one' moment but not everyone does. I think I just felt that it fit my vision and I could imagine myself walking down the aisle to Richard in it. And also, I knew it would be unexpected… my friends expected me to go for something more fitted and structured so I wanted to be different.
Did you finally choose what you originally set out to find?
Yes, pretty much. When I first started looking at dresses, I wanted a full on Rue de Seine style boho dress but soon realised I'm not cool enough to pull that off! They look fabulous on models but I wasn't sure that look would translate in real life so I decided to go for a softer boho look with a pretty countryside feel.
Bridal Styling:
What shoes did you wear?
Amy Blue Blossom shoes by Harriet Wilde which were a gift from my lovely mum.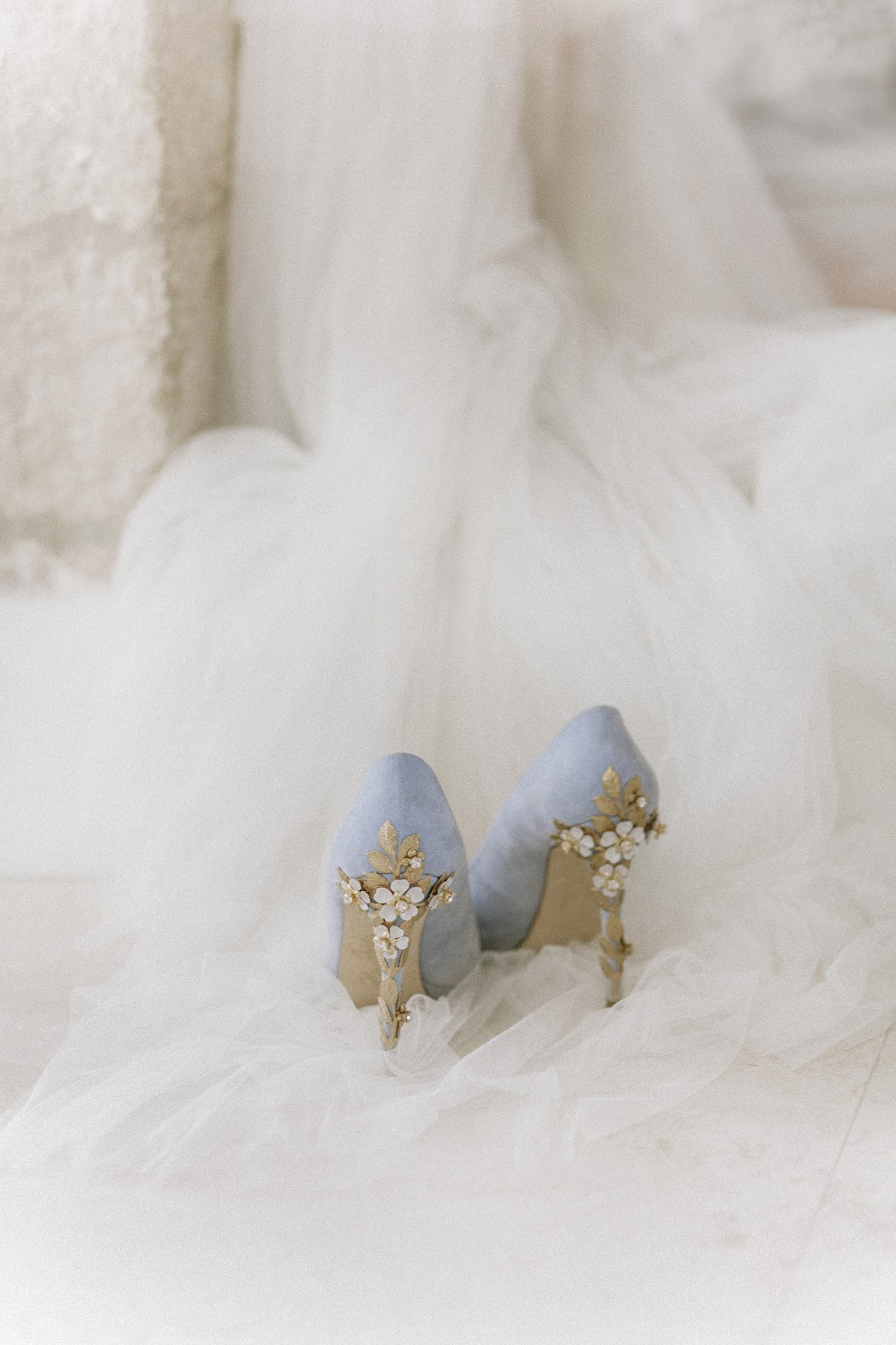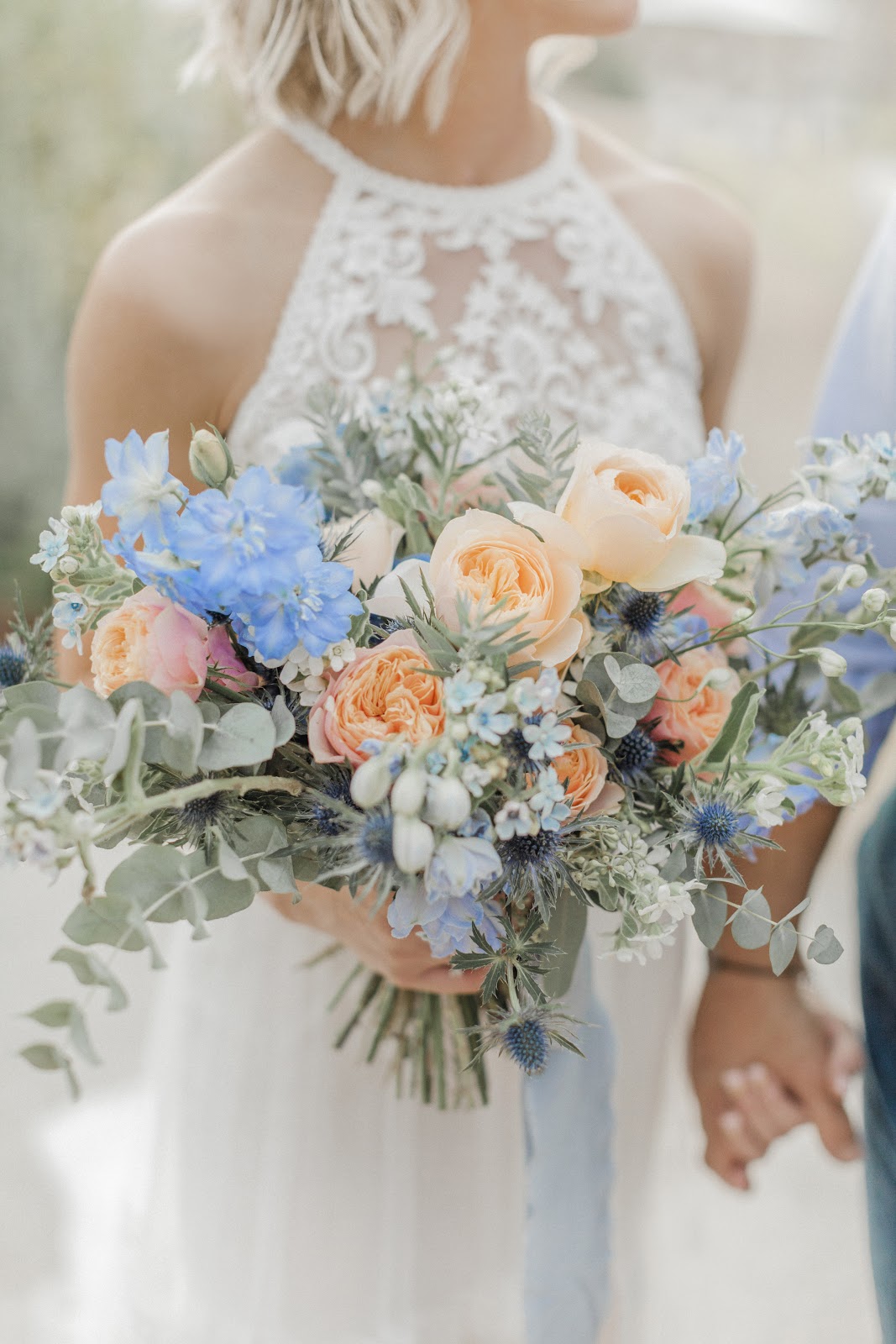 Which other accessories did you choose?
I wore simple pearl earrings, a pearl bracelet and a fresh flower crown.
Did you wear a veil?
I bought one but didn't wear it! I spent ages debating over whether to wear one or not and I guess I bought one because I thought it would make me feel more bridal but on the day it was very hot weather and I had a lot of other things to think about like walking on gravel in very high heels and keeping my flower crown on my head so I didn't feel like I wanted to add to that! I also just didn't feel like I needed it, I wanted to be comfortable and I therefore felt that the crown was enough.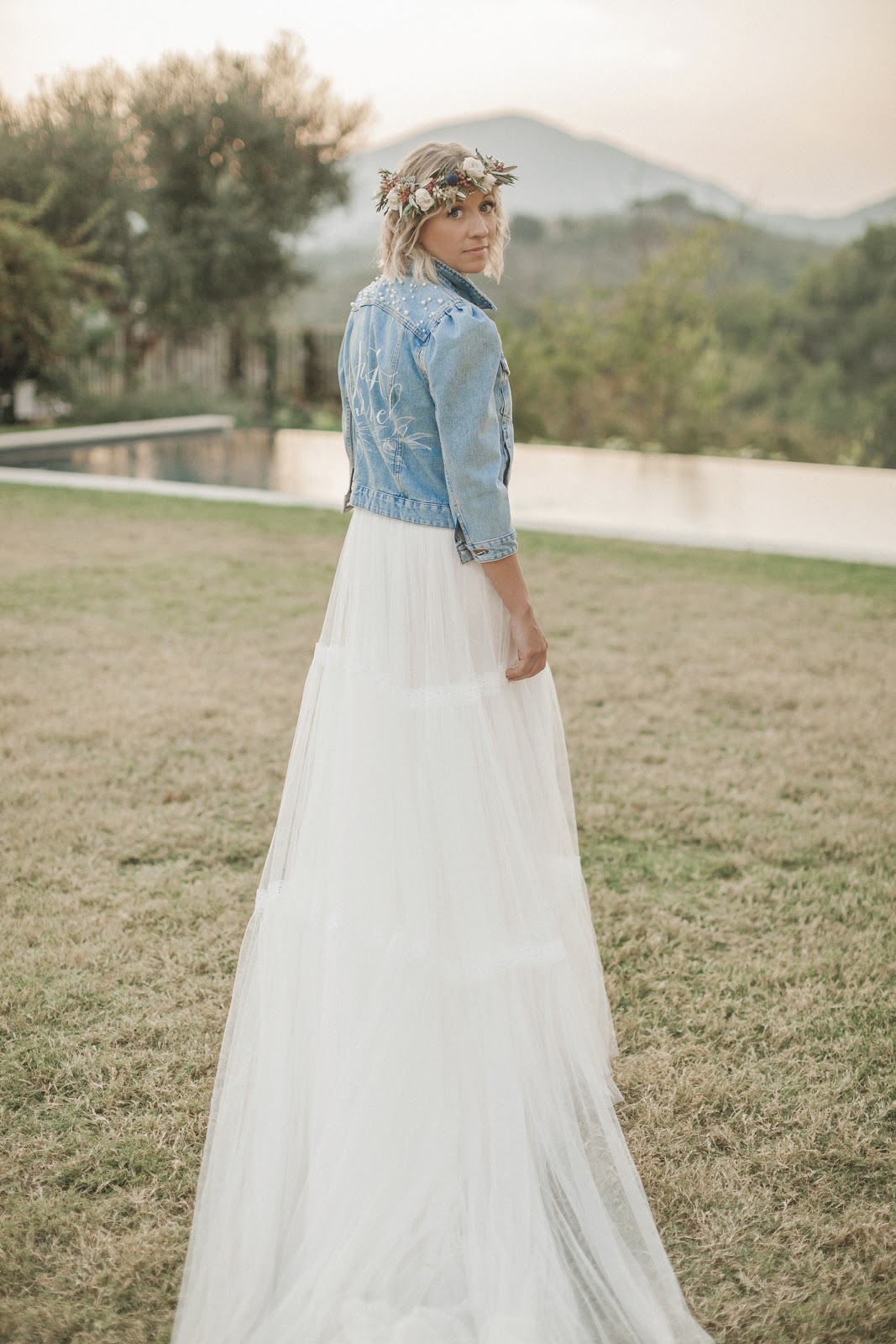 The venue and wedding theme:
Why did you pick this venue?
It's insanely beautiful but also because it fitted our vision of a chilled out countryside wedding. Because I work in the industry, I didn't want to get married in the UK because I didn't want to feel like I was at work so we chose Italy having previously fallen in love with the country while on holiday.
Above everything, Rich and I wanted a relaxed and intimate wedding and the venue we chose provided that. Castiglione Ugolino is an exclusive use converted castle and chapel which we stayed in with our guests for a week. Because we were staying there, it just felt like the wedding was in our back garden which was great because there was no rushing around or getting stressed about travelling to the venue… the boys were literally lounging in the pool with a beer while the wedding was being set up around them!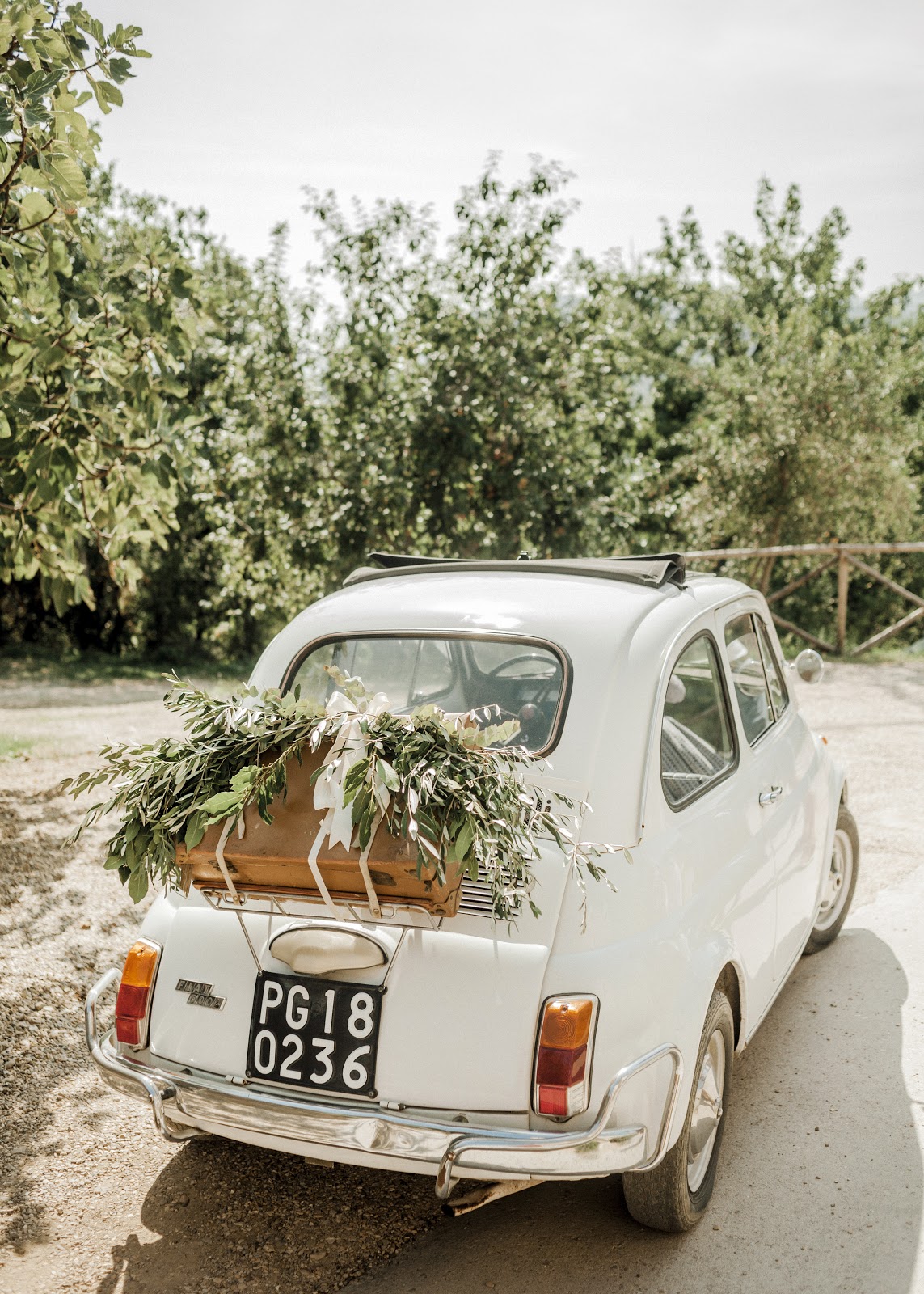 What is your most memorable moment from the day and your favourite part?
I loved walking down the aisle to Rich. I am a very shy person and hate being centre of attention so the thought of walking down the aisle terrified me but when it came to it, the look on his face (and the look on our guests faces) was very memorable.
The speeches were also a favourite part of the day… just thinking about them makes me well up! Everyone at the wedding was in tears, it was very emotional but very special.
What would be your advice to any future brides-to-be?
That's a tricky one because everyone is different but I think I would say just chill out and don't sweat the small stuff! I'm a very meticulous person so every detail of our wedding was carefully planned and organised and for me, that worked but that can be stressful because you feel responsible for everything. Ultimately, you need to try and remember why you're doing it. The only thing that really matters is marrying the person you love surrounded by your friends and family and if you are relaxed, your guests will be too.
We had a really stressful run up to the wedding because of Covid and right up until the day we left, we weren't sure if it would go ahead so by the time we got to the wedding day itself, I was just thankful to be there with the people I care about the most!
Congratulations to Isabelle and Rich from all of us at Marrime!