DRESS: Charlie Brear Trine Gown styled with Made With Love Carla Cape
WEDDING DATE: 29th September 2019
VENUE: Ceremony at The Gaurds' Chapel and reception held at The Royal Chelsea Hospital
PHOTOGRAPHER: Imogen Xiana (Instagram: @imogenxiana)
The Marrime Experience…
Why did you choose to visit Marrime?
I really loved the relaxed, but classic style of the Charlie Brear collection and as I live in London I had previously tried on some dresses at the Charlie Brear flagship studio. I was very keen for my granny who couldn't travel to London for our wedding to be involved in the dress selection and showing her the dresses I was thinking of at Marrime Bridalwear in Newcastle was the perfect experience.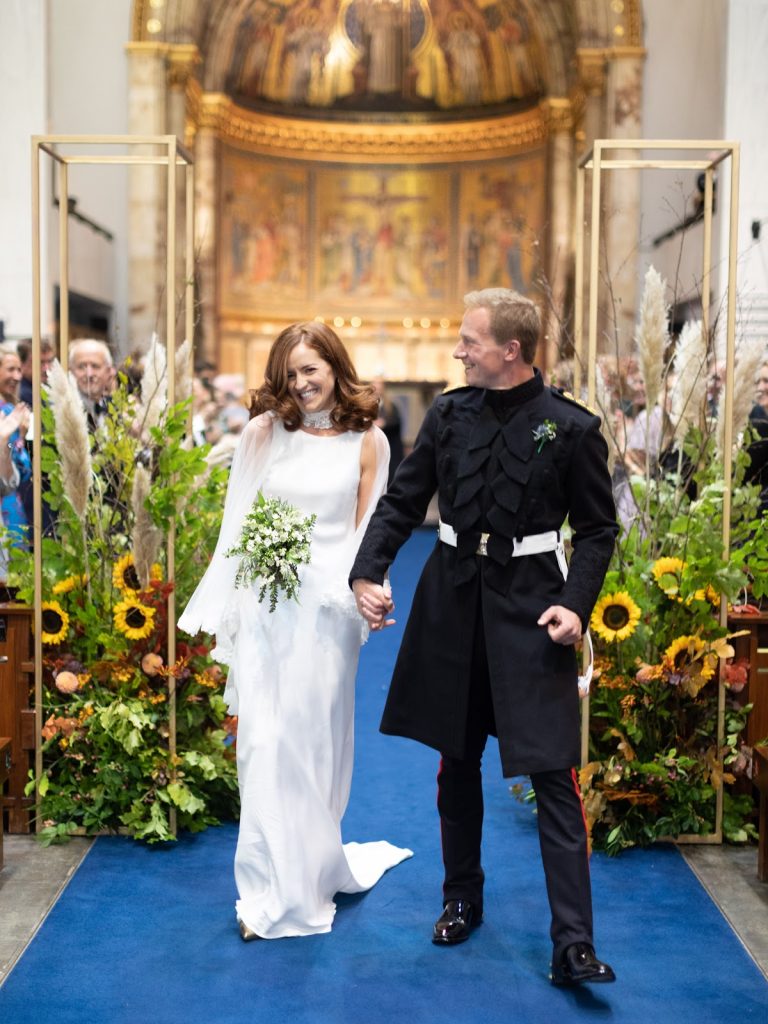 Who did you bring with you to your appointments?
My mum and my granny!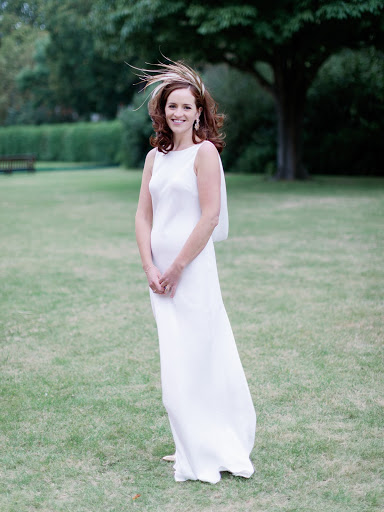 How did you find your experience at Marrime?
Wonderful! Marrime was so much more relaxed and friendly than any other bridal shop I visited. Beth was so helpful and patient, even with my granny, and the range of dresses was amazing.
What was your bridal style?
Classic but contemporary.
How did you know your dress was THE ONE?
To be honest, I didn't! I had my heart set on the Nyika from Charlie Brear and wanted me mum and granny to sign off on it but, when they saw it, they really didn't like it on me, my mum pulled out the Trine from Charlie Brear and persuaded me to try it on and I loved the classic formal front, with the surprise of the daring low scooped back, and I felt so comfortable in it. As the gown was so simple, one of the lovely MB stylists persuaded me to try on a selection of veils and capes. We all fell in love with the Carla cape from Made with Love, which just complimented my gown perfectly.
Did you finally choose what you originally set out to find?
I had no idea what style I was looking for when I started wedding dress shopping! I knew that I wanted something ideally from a British designer and with a simple, sleek silhouette so the Trine fitted that perfectly! As our wedding was quite traditional, I had wanted a classic style but with an added element which showed my personality too so the combination of the Trine and Carla cape ticked all the boxes.
Bridal Styling:
What shoes did you wear?
Gold metallic Gianvito Rossi 85 pumps.
Which other accessories did you choose?
During the day I wore simple pearl drop earrings, which were borrowed from my mother in law, she wore them on her wedding day to Christopher's father, and a pearl bracelet, borrowed from my mum, this bracelet was the first present my dad gave her when they started dating. Our wedding was black tie, so in the evening I changed my earrings to a statement pair of gold/pearl which I had found in Zara and had a headpiece of gold feathers commissioned by a milliner in London called Awon Golding.
Did you wear a veil?
I felt really strongly that I didn't want a veil, as it felt TOO bridal for me, however our venues were quite imposing and because the dress I chose was so simple, I felt that it might need a bit more drama for me to hold my own in the spaces. When shown the Carla cape by Made with Love it was the perfect compromise, it draped beautifully at the back mirroring the Trine cowel-back and was different enough to show my personality, it gave my outfit real presence and a point of difference. I had been thinking of a caped dress but hadn't found one I loved, so this added accessory, with the delicate material and lace on the cape was ideal over the top of my simple dress.
The venue and wedding theme:
Why did you pick this venue?
My husband Christopher is in the British Army so we got married at The Guards' Chapel just off Birdcage Walk in London, which is a church associated with his regiment. The Chapel has so much history and meant that we were able to have one of his friends, who is the Regimental Chaplain, marry us – which was incredibly special. Our reception was at Royal Hospital Chelsea, which is a beautiful Sir Christopher Wren building on the Thames. The Royal Hospital Chelsea is home to the Chelsea Pensioners and I walk past it almost every day on my way to work, so it combined Christopher's army career with my design career perfectly.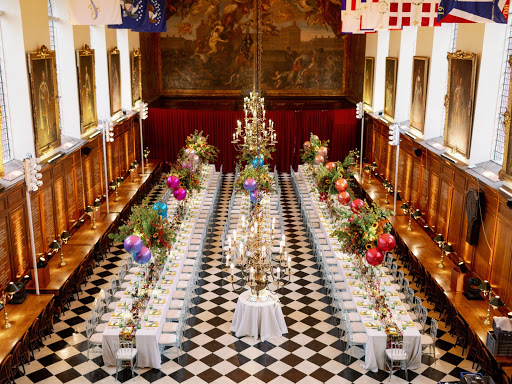 What is your most memorable moment from the day and your favourite part?
During dinner, Christopher and I snuck up onto a balcony overlooking the hall where we had the reception and stole some time to ourselves, just to look out over all of our friends and family having a great time. It was probably only five minutes but having that alone time was so special and I will remember it forever! One of my favourite parts of the day was when Christopher got up to give his speech and we found out that it had been swept away from the lectern by our overzealous caterer – an hilarious 2 minutes ensued where everyone was running around like headless chickens trying to find it – thankfully it was found and returned to Christopher who delivered it, unruffled.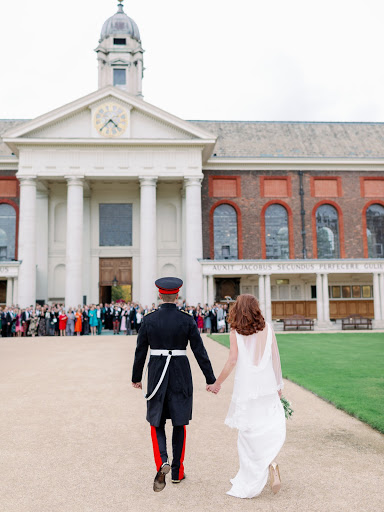 What was your favourite photograph snapped on the day and why?
A photo taken from behind of Christopher and I walking out into the courtyard at Royal Hospital, which is the most incredible space, all of our guests were gathered ready for a group shot and I feel like this photo looks like us walking into married life. 
What would be your advice to any future brides-to-be?
Take some time out, on the day, with your new spouse to just look around and see everyone you love in one place at the same time, that will almost certainly never happen again and it is so special! Also, choose a dress that you feel super comfortable in, the last thing you want is to feel restricted or itchy for the whole day.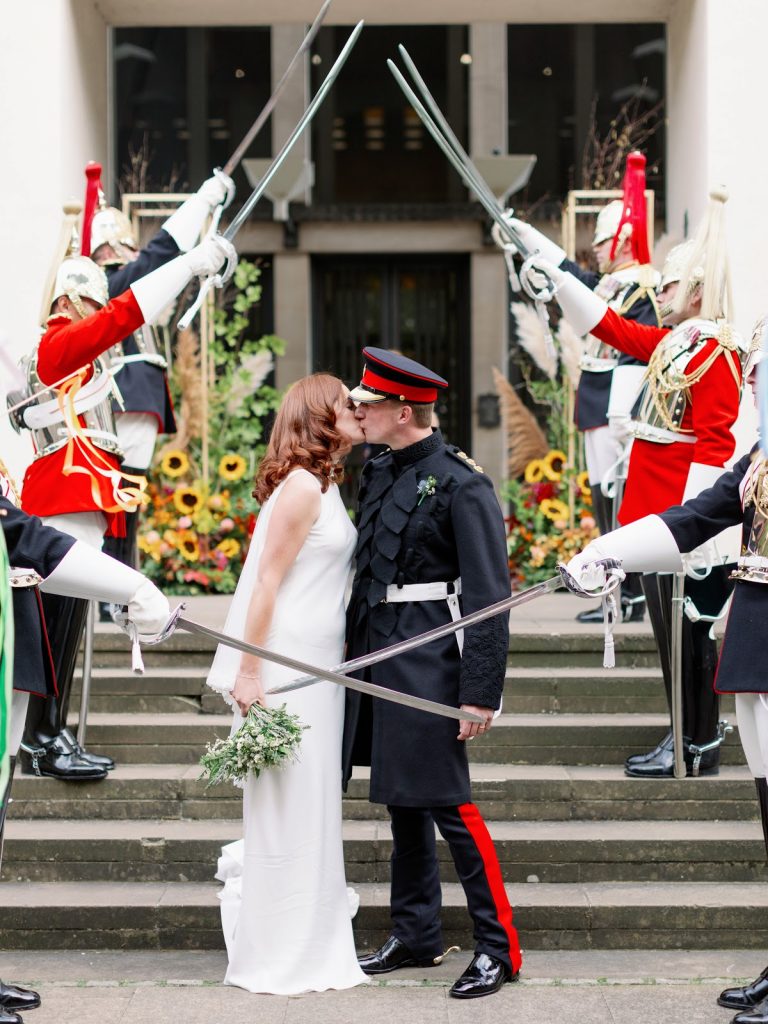 Congratulations to Sophie and Christopher from all of us at Marrime!