DRESS: Alexandra Grecco
WEDDING DATE: 12th July 2019
VENUE: The Bonded Warehouse
PHOTOGRAPHER: Chris Lloyd
The Marrime Experience…
Why did you choose to visit Marrime?
I had been to other bridal shops and found they just didn't stock anything that was my taste. After a quick Google search, Marrime popped up, I checked their instagram and knew I'd find my dress in that boutique. It was exciting to find such a unique bridal shop in the North East too!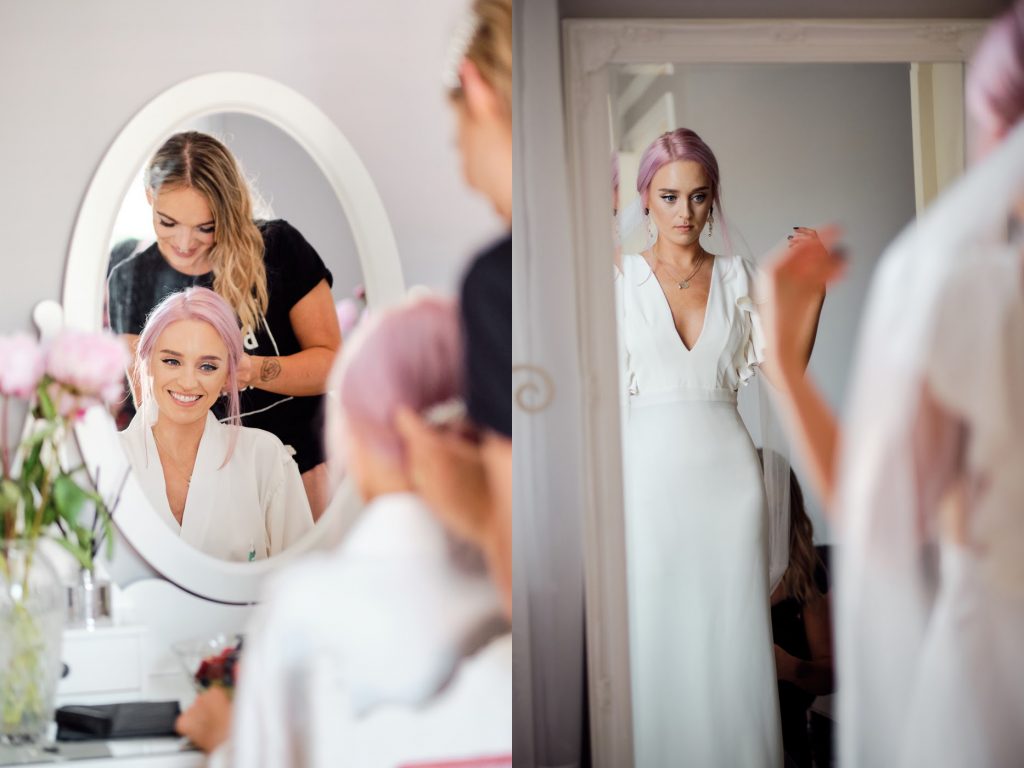 Who did you bring with you to your appointments?
Originally my mam and mother-in-law. On the second visit I brought my bridesmaids. I needed them to see the dress I couldn't stop thinking about.
How did you find your experience at Marrime?
It was so much more relaxing than I'd expected. The girls are so helpful and attentive, and the boutique is stunning. It's everything you want from a wedding dress shop.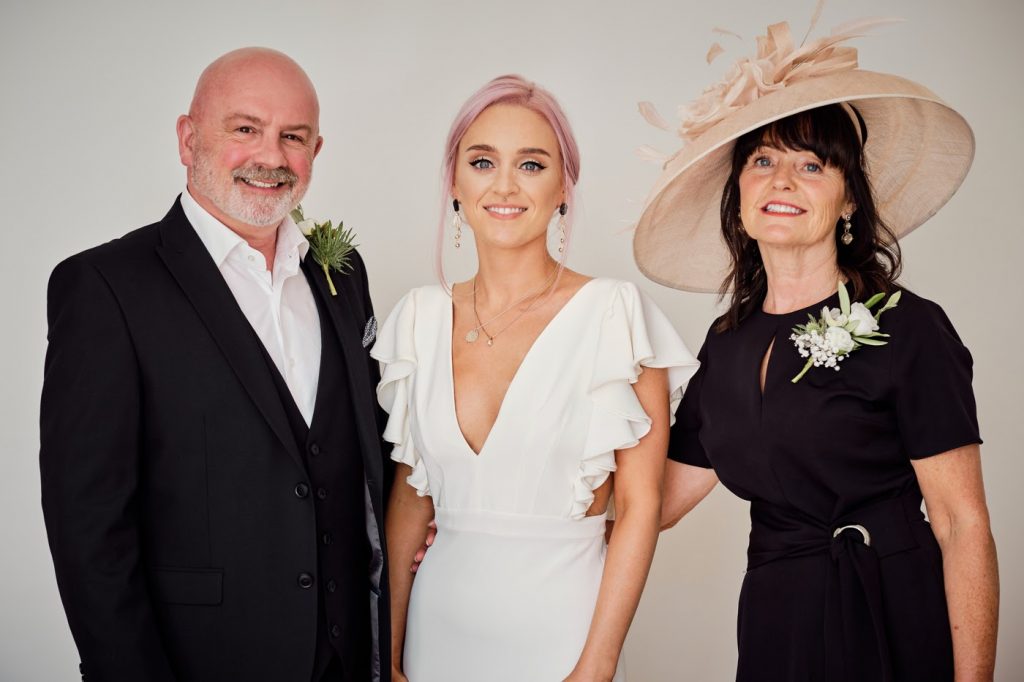 What was your bridal style?
I initially thought I wanted something more traditional with an A-line skirt. Then I visited Marrime and they have so many modern styles to choose from, I knew then that I wanted something more minimal but still fun.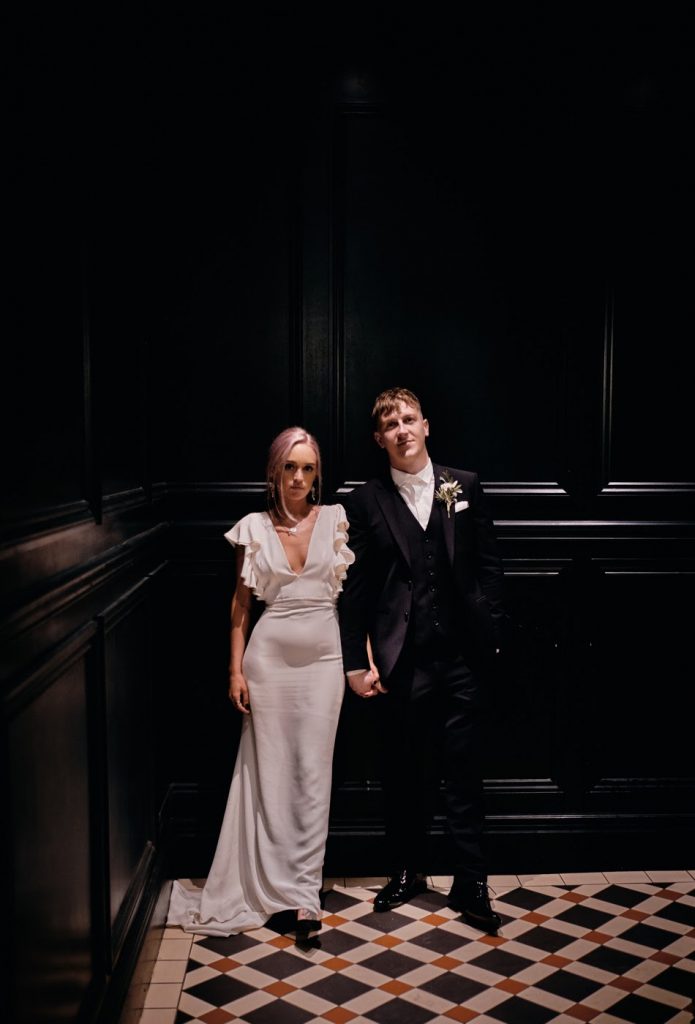 How did you know your dress was THE ONE?
I honestly wasn't blown away by it at first when I saw it on the hanger because it was so different to what I had been searching for. But it was my Mam's suggestion, so I tried it on for her. As soon as I was wearing it I felt amazing. I had other appointments booked in other stores, but every dress I tried on after that, I compared with the Alexandra Grecco from Marrime. I just couldn't stop thinking about that dress!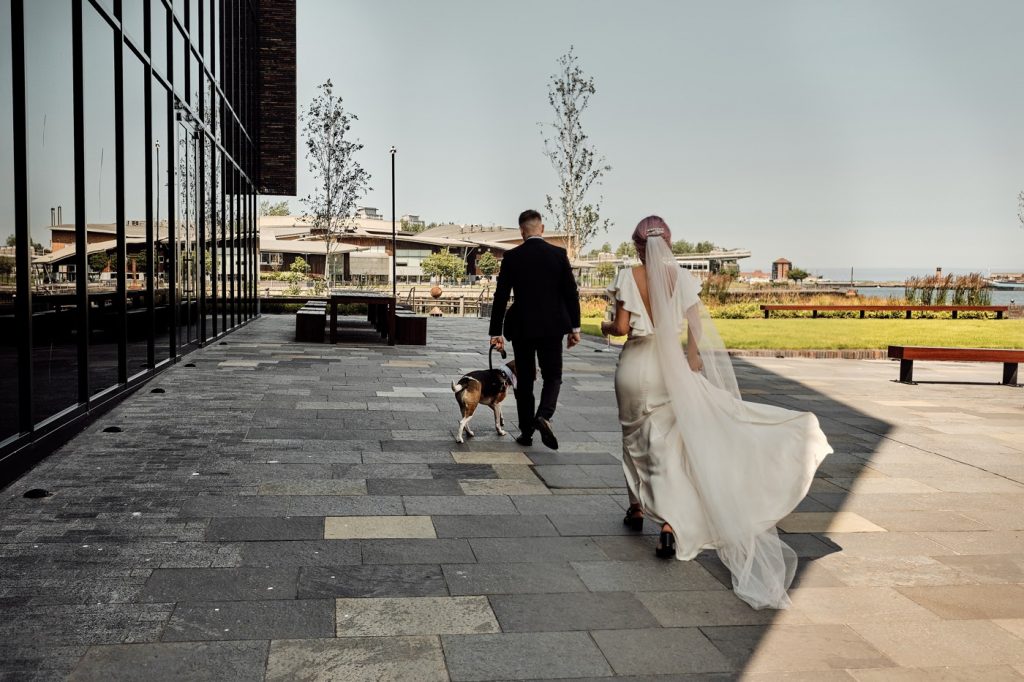 Did you finally choose what you originally set out to find?
Not at all. I had tried on so many full skirted dresses, separates and vintage dresses. The only thing which was certain was that I didn't want lace. The dress I chose was so much more than I had hoped for or imagined.
Bridal Styling: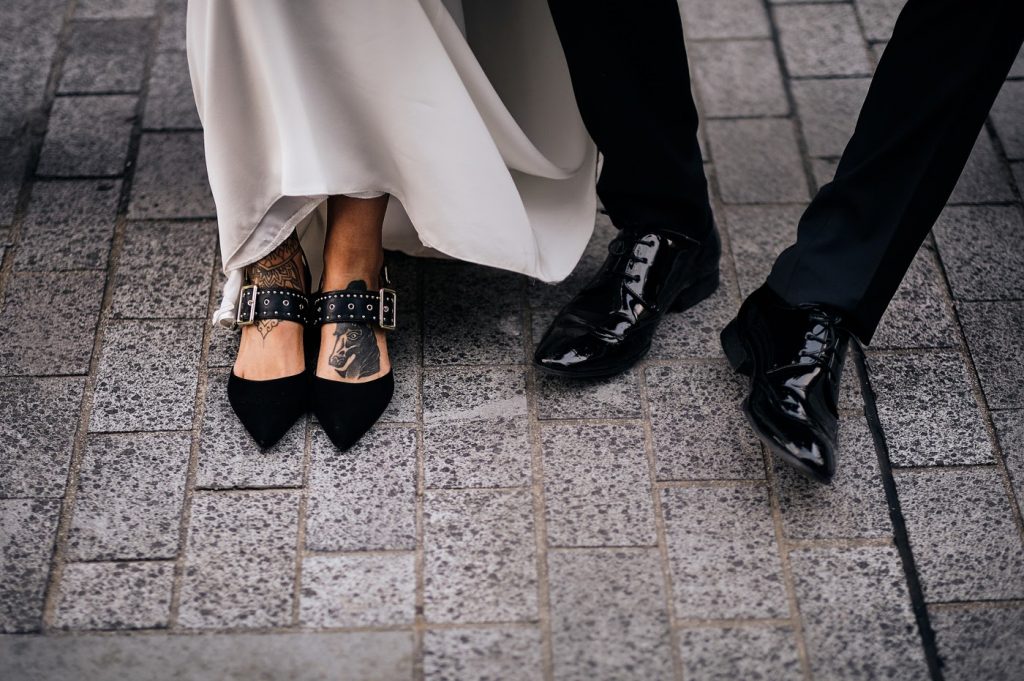 What shoes did you wear?
Black pointed suede heels from Charles and Keith.
Which other accessories did you choose?
My Mam's pearl drop necklace and statement pearl earrings from Aldo.
Did you wear a veil?
I did, though I didn't keep it on very long. All I wanted was to feel comfortable on the day and I found it got in the way a lot. So you won't see many photos of me wearing it! Luckily I got it for an excellent price from Etsy so I didn't feel so bad ditching it early.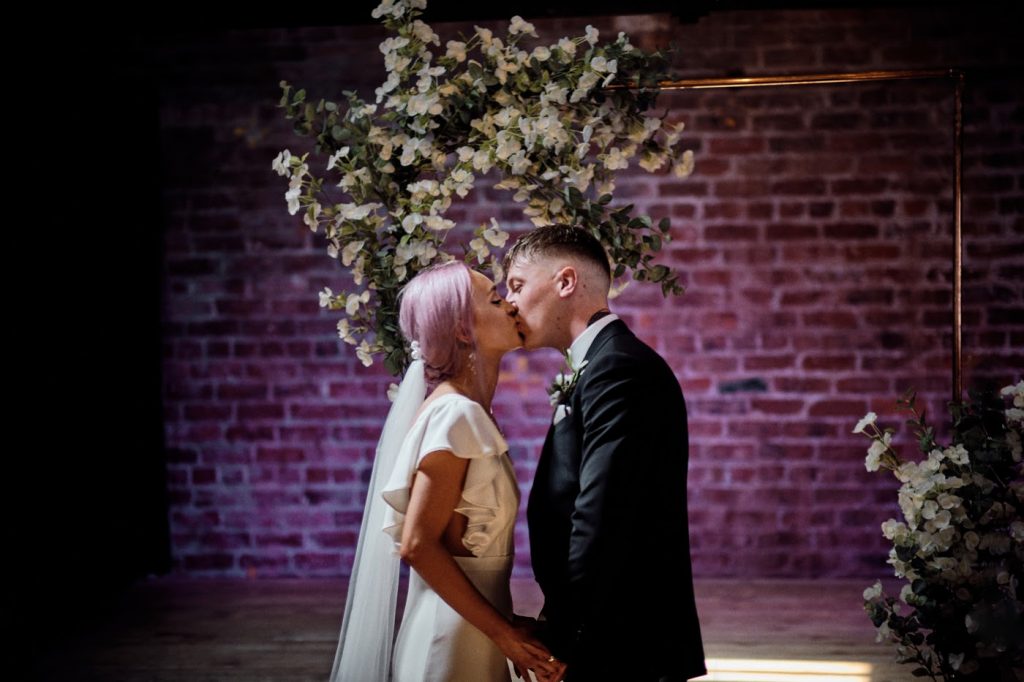 The venue and wedding theme:
Why did you pick this venue?
Me and my husband, Rhys, knew that The Bonded Warehouse was going to be our venue before we even started looking. It's a beautiful listed building that has been transformed from a student bar into an incredible open space and keeping the venue in Sunderland was important to us. It has industrial heritage and it fit perfectly with the sophisticated and laid back wedding we were hoping for. We felt the food would be really important too, it's something I always remember from weddings and we knew The Bonded Warehouse has always served incredible food. And our guests are still talking about it 8 months later!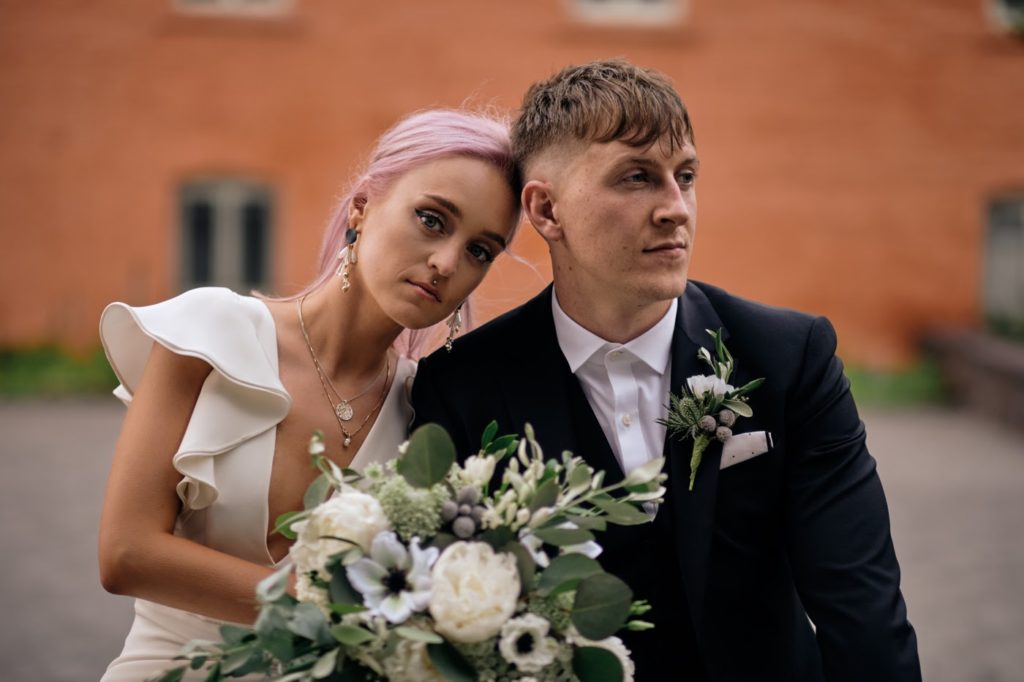 What is your most memorable moment from the day and your favourite part?
Walking down the aisle was a big moment for me – my fiancé was holding my daughter which was just the best surprise and such a lovely memory to see them both together. However, my favourite part was when our Beatboxing Waiters were revealed! They took everybody by surprise and their performance was epic. People were dancing on their chairs and it really got the party started!
I also want to commend Matt and the rest of the staff at The Bonded Warehouse. They couldn't have been more chilled out and accommodating the whole way through planning and especially on the day.
It's honestly so hard to choose one single moment. From arriving at my parent's house to get dressed with my bridesmaids, walking down the stairs to my dad, being picked up in a Ford Mustang, saying "I do", our dog Billy arriving for best boy photos, and dancing all night with my closest friends. I loved every part of it.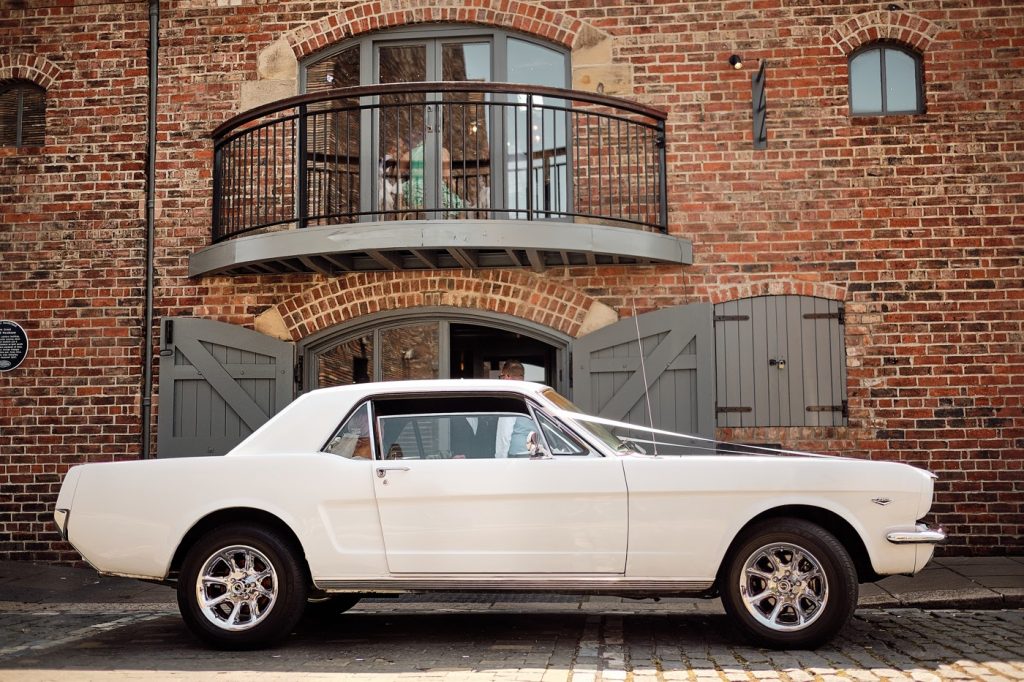 What was your favourite photograph snapped on the day and why?
Chris took so many amazing photos. I did however know I wanted a picture in front of this wall that was actually in the carpark. So we had to wait until the office workers cleared out for the day, so by this point we were a few champagnes in and a little bit worn out. But it is still my favourite photograph of the day.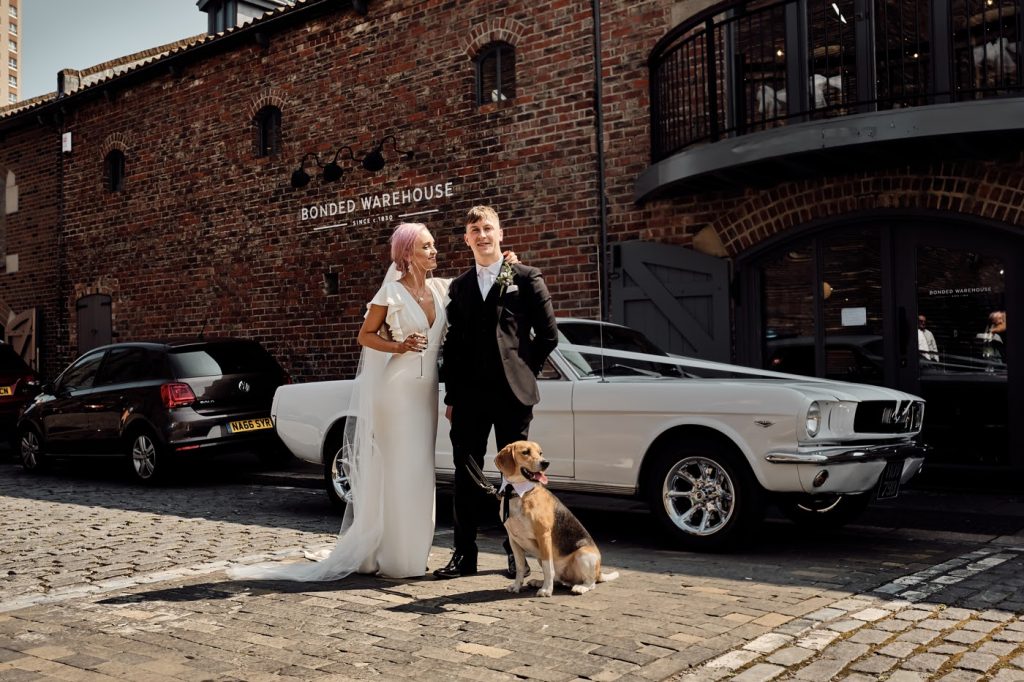 What would be your advice to any future brides-to-be?
Don't let anyone else influence your choices. It's so easy to forget this day is about you and your partner. Stick with what is important to you and try to relax while you're at it.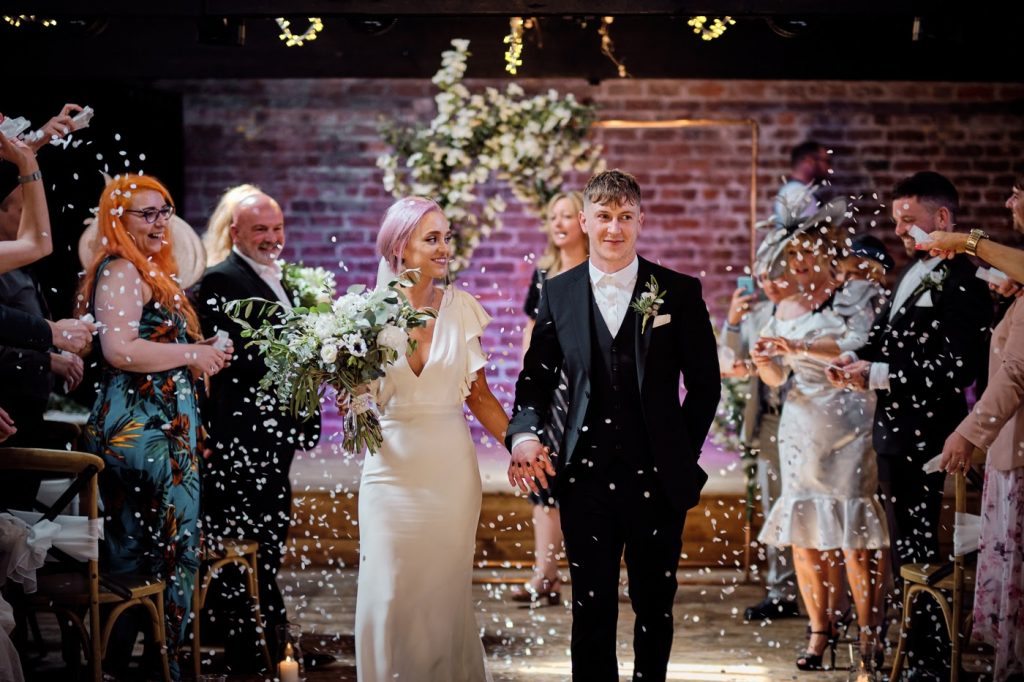 Congratulations to Robyn and Rhys from all of us at Marrime!