DRESS: Anya by Karen Willis Holmes Luxe
WEDDING DATE: 24th August 2019
VENUE: Doxford Barns, Alnwick
PHOTOGRAPHER/VIDEOGRAPHER: Jonathan Stockton / Wayne Connelly, Green Biscuit Studios
The Marrime Experience…
Why did you choose to visit Marrime?
One of my bridesmaids had mentioned the shop long before I ever got engaged! In fact, we had popped in for a casual browse whilst on maternity leave together. It was always somewhere I was going to visit when it came round to finding my dress.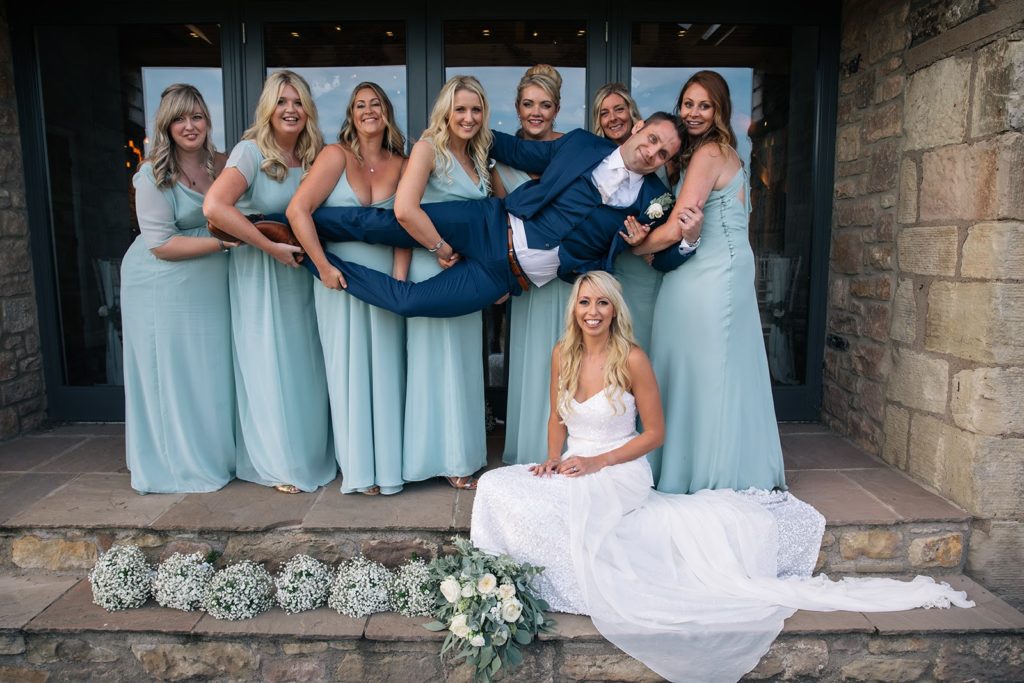 Who did you bring with you to your appointments?
My first appointment – where I actually found my dress – was with my maid of honour Gemma, and two of my bridesmaids, Emma and Lorraine. I brought my Mum back on another visit as I wanted to get her seal of approval. She lives in the North West so I wanted to be pretty certain before I booked her a trip up North!
How did you find your experience at Marrime?
I absolutely loved it and couldn't fault it in any way. Holly was so lovely, complementary and helpful. She was also honest which I really appreciated and I felt I could trust her. I'm not always decisive and she happily put up with all my questions! She picked some incredible gowns for me from a very limited brief because I was open to all styles – you only get to do this once after all!
What was your bridal style?
I didn't really know in advance of trying them on… another reason why Holly's guidance was so helpful. My gown was modern and elegant. I also added a skirt which I felt fit in with the Doxford Barns Ceremony Hall beautifully, both the outfit and the venue were very romantic in style.
How did you know your dress was THE ONE?
Nothing else came close. It was so different to anything I had ever seen before, everything else in other bridal shops seemed quite 'samey' as if I'd seen that look many times before. Of course, they were all beautiful gowns, but I was just so in love with my dress I couldn't see how any others would compare.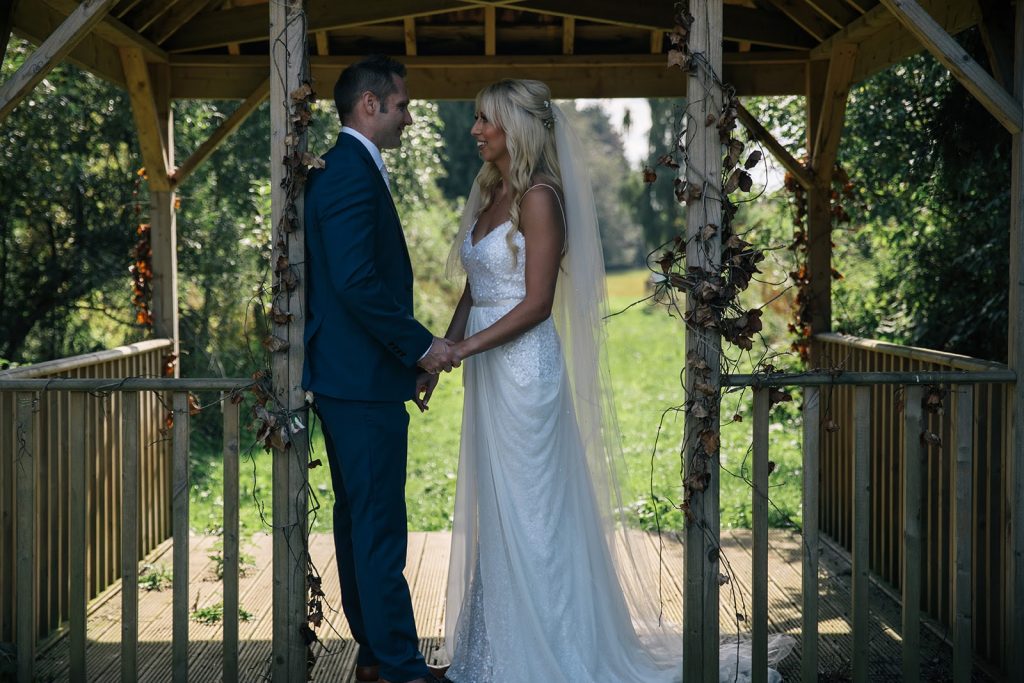 Did you finally choose what you originally set out to find?
No… I had never seen anything like it before so didn't know I wanted it if that makes sense! I was filled with concerns about my body after having a baby and had the idea that I should be going for a structured gown to pull me in and maybe cover my shoulders and arms. That's why Marrime and my girls were a godsend, they encouraged me and gave me a huge confidence boost. I couldn't have dreamed of the dress I found, yet it was so very 'me' before having my daughter. I honestly was, and still am, in love with my gown and couldn't be happier with it… thank you Holly for finding the Anya gown for me!!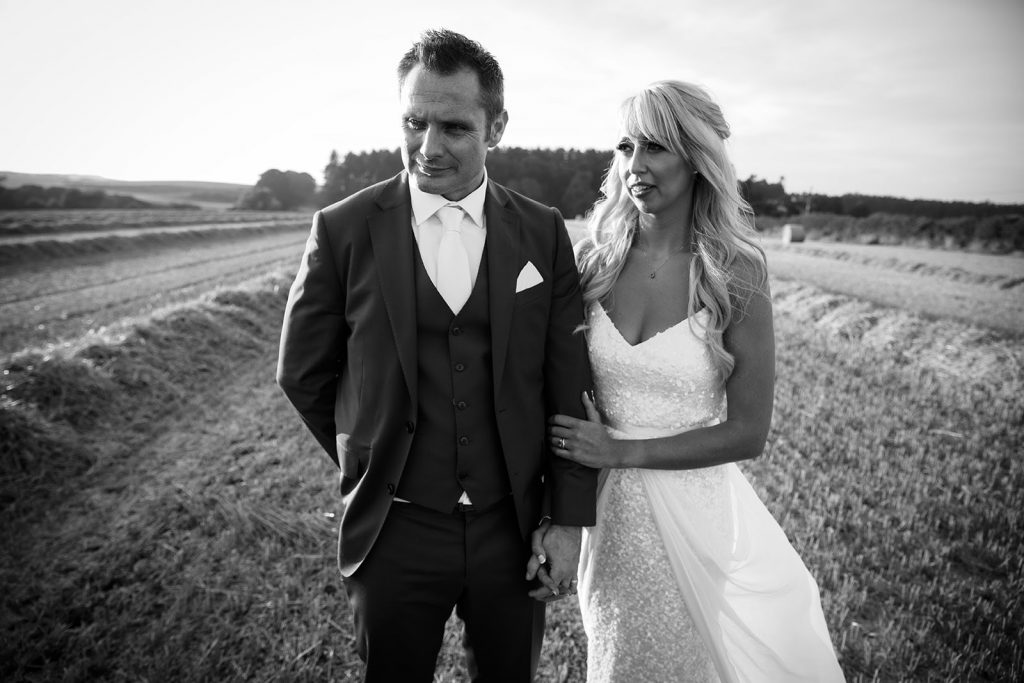 Bridal Styling:
What shoes did you wear?
I actually wore flats. I'm 5'11" so I don't need any extra height, plus I love a good dance so I opted for comfort – I knew there would be no need to kick off my shoes on the dance floor later on! They were nude, sparkly sandals.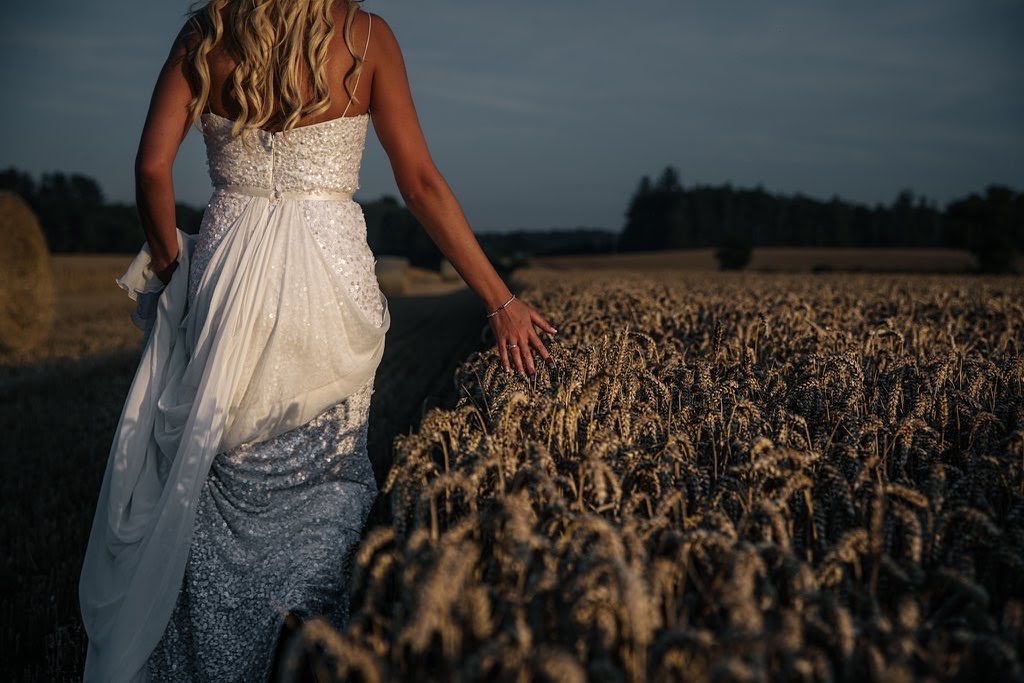 Which other accessories did you choose?
I had a skirt and a belt. The skirt was lovely and floaty, adding an extra dimension to my dress and making it feel so romantic. I loved the addition of the skirt so much that I only took it off very late into the night. I didn't end up wearing my belt. Aimee, the Marrime seamstress, fitted my dress so perfectly that I felt that I didn't need the belt to pull me in because she had already taken care of that!
Did you wear a veil?
Yes… a really long one, with crystals so it twinkled in the light. I really went for it and felt amazing as soon as I put it on. The veil really made me feel like a bride and I wish I could wear it again!
The venue and wedding theme:
Why did you pick this venue?
I honestly thought that my venue would be Charlton Hall, but as soon as I saw the Theshing Hall at Doxford Barns, I burst into tears. It's incredibly beautiful and romantic. I had also originally thought I'd get married in a church, but that went out the window too when I saw this place! I really wanted to prolong the celebrations, so it was ideal that Doxford Hall have cottages on site for guests and offer a 3 day long wedding party.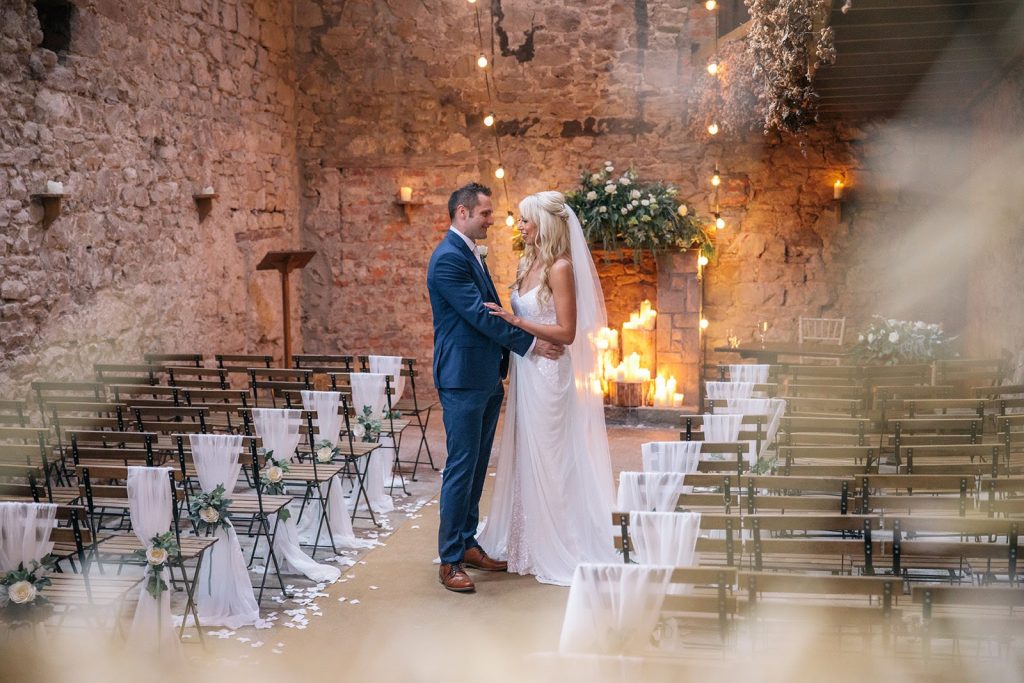 What is your most memorable moment from the day and your favourite part?
Walking down the aisle was a big moment for me – my fiancé was holding my daughter which was just the best surprise and such a lovely memory to see them both together. However, my favourite part was when our Beatboxing Waiters were revealed! They took everybody by surprise and their performance was epic. People were dancing on their chairs and it really got the party started!
What was your favourite photograph snapped on the day and why?
It's really hard to pick because the photographer and videographer did such an incredible job! They have given me an amazing record of memories I will treasure always. There is one of myself and Ava cuddling, but another one that I particularly love is of my daughter, my husband and myself. It was so special to have Ava there and she says she married Mummy and Daddy too. That's how we like to think about it… we all got married.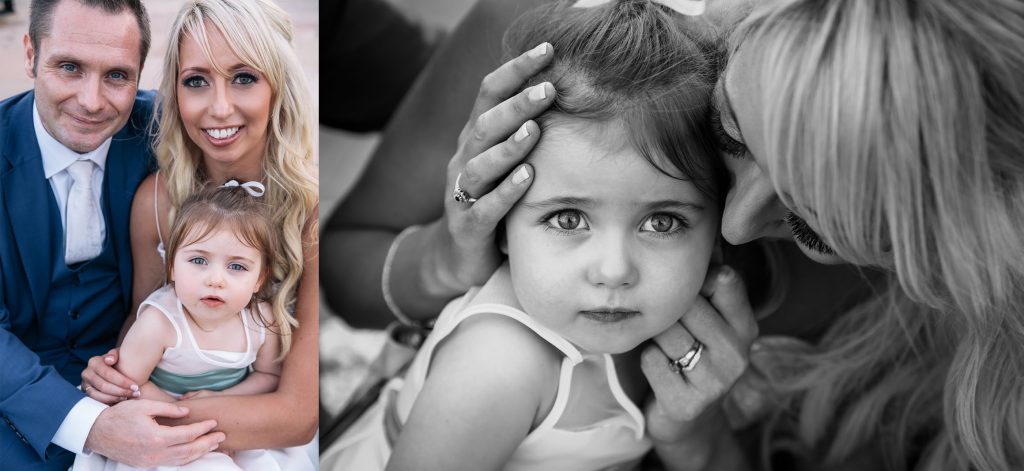 What would be your advice to any future brides-to-be?
Enjoy it, you don't have this time again. Everyone says it goes by in the blink of an eye and it's TRUE. Don't worry about anyone else, the day is for you and your husband.
Congratulations to Amy and Derek from all of us at Marrime!