DRESS: Made With Love – Harlie Gown
WEDDING DATE: 27th October 2020
VENUE: Thornhill Church, Derry, Northern Ireland
PHOTOGRAPHER: Paul McGinty (Ghorm Photography)
The Marrime Experience…
Why did you choose to visit Marrime?
I chose to visit Marrime as it stood out as the most unique and fashionable wedding dress boutique when I researched online. This appealed to me as I was searching to find the most unique dress I could to suit my personality.
Who did you bring with you to your appointments?
I brought my Mum, sister, and Mum in Law to the dress appointment to help me find my dream dress.
How did you find your experience at Marrime?
The boutique is truly beautiful and it's always lovely to be there. Everyone has been so friendly and helpful – even with the ever changing restrictions! I can't thank Marrime enough for sorting everything out in these weird times.
What was your bridal style?
I'm not sure if I really had a bridal style? Maybe more vintage….I just went with what I fell in love with!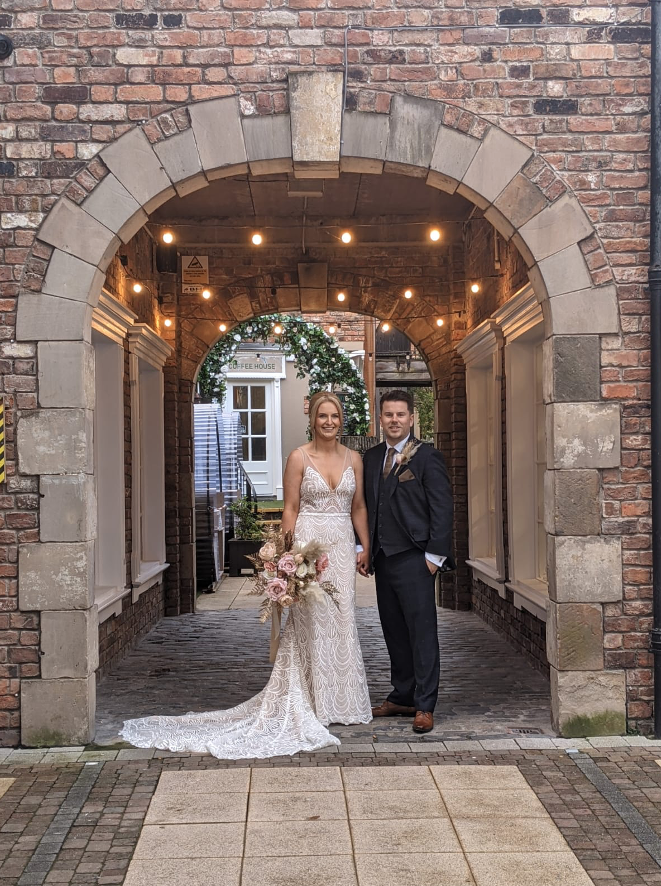 How did you know your dress was THE ONE?
I knew my dress was the one because I instantly felt comfortable and happy in it. Everyone agreed and I received so many compliments. It was the 6th and last dress I tried on. The gowns I tried on in other boutiques felt more like prom dresses when I had them on. I also loved how the dress was traditional with the lace, but the deco pattern was so unique and beautiful. It really stood out and I absolutely loved all the little sequins…..it sparkled all day long!
Did you finally choose what you originally set out to find?
My dress was everything I thought I didn't want! This just shows how important it is to have an open mind to trying different silhouettes and styles when dress shopping.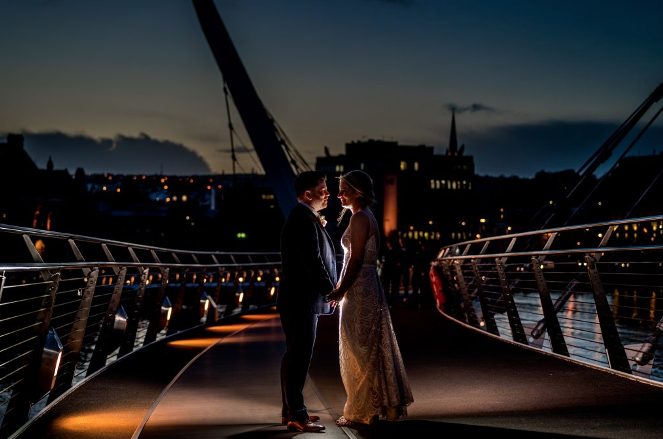 Bridal Styling:
What shoes did you wear?
My shoes were Charlotte Mills- Henrietta Blush and matched the dress perfectly (I thought!)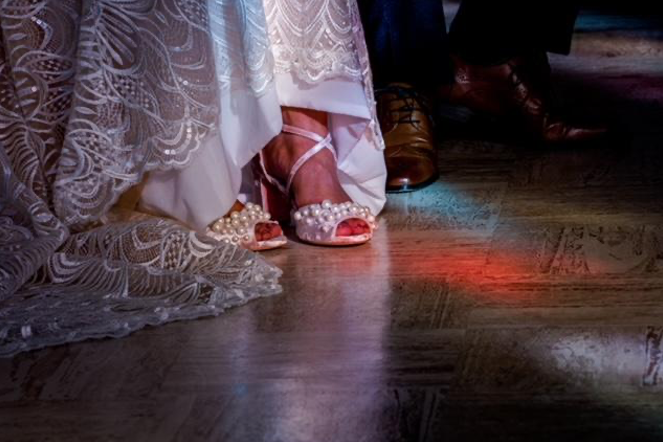 Which other accessories did you choose, and did you wear a veil?
I didn't choose many accessories as the dress really spoke for itself. I had a small hair clip and a rose gold bracelet.I wore a veil because it was my Mummy's veil. My sister also wore it on her wedding day in 2018.
The venue and wedding theme:
Why did you pick this venue?
We couldn't have a wedding reception due to restrictions in Northern Ireland at the time, but I'm already looking forward to wearing my dress again at our celebration party in one years time on our anniversary!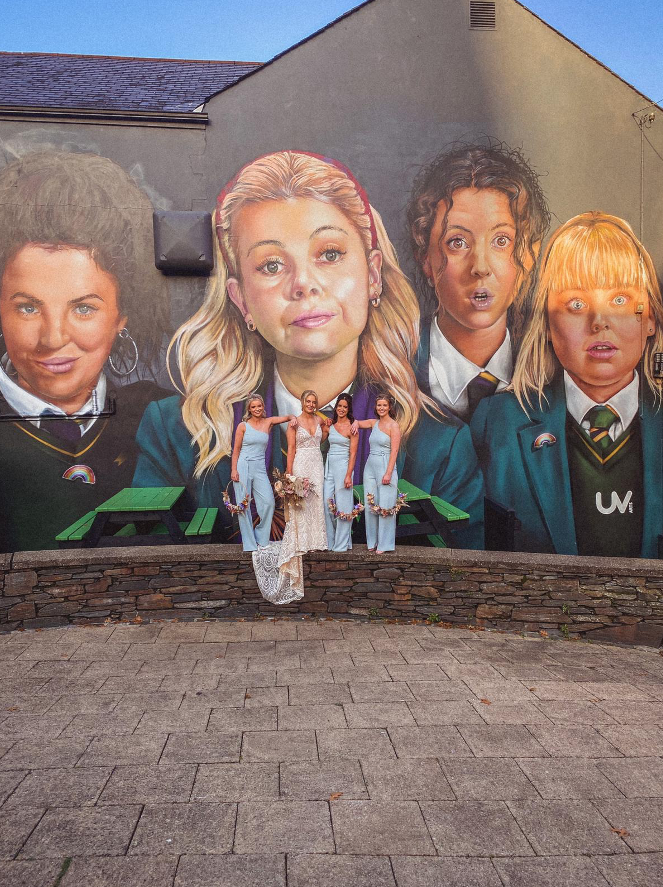 What is your most memorable moment from the day and your favourite part?
My most memorable moment is after the ceremony – we toured the city with our photographer and my sisters and their partners (bridal party). It was so fun and because it was in the middle of a circuit breaker shutdown – there weren't many people around so we managed to get some great photos! My favourite is actually the black and white one of us all crossing the road – just a really candid and funny snap.
What would be your advice to any future brides-to-be?
Focus on what is important to you and your husband to be about the wedding day. It's easy to get stressed / carried away with all the small details and trying to keep everyone else happy.
The Covid-19 pandemic made us appreciate the basics of 'getting married' and being able to just become Mr & Mrs with our family. Just spending time together was perfect!
Congratulations Aibhinn and Mark!